These lamps are not only designed to offer the most precise illumination but are also customizable enough to ensure they fit the needs of different users without impeding on the comfort level of the user.
It is worth noting that not every desk lamp is suitable for every user. One lamp may be suitable for studying while another may be more appropriate for enlightening a precision tooling project. Others come with adequate customization to help you switch from one functionality to the other with ease.
When buying an office desk lamp, you should keep track of not only the lighting options a particular lamp offers but to see how flexible it is as well. To provide you with a little perspective on the matter, we put together a list of the ten best office desk lamps the market has to offer at this point in time.
What are some rules of thumb when lighting a home office?
CP: Keep in mind that it's a functional place for you to work but it should also reflect your personality and interests. It should have a comfortable, properly lit area for reading, relaxing, and viewing a computer screen or a TV and a place to display collections or artwork.
As such, lighting should be layered to enhance the various roles of the room. I consider the natural light conditions and choose a combination of ambient, task, and accent fixtures. You need ambient lighting—such as recessed or ceiling-mounted fixtures; sconces; or up lights—to establish an overall level of lighting in the room.
Task lights—a desk lamp, or a floor lamp next to a chair—are specifically for working at a computer, writing, or reading. And accent fixtures—a small, recessed wall-washing can, monopoint, or uplight from the floor—can be used to highlight art or architectural features.
1.LE Dimmable LED Desk Lamp
---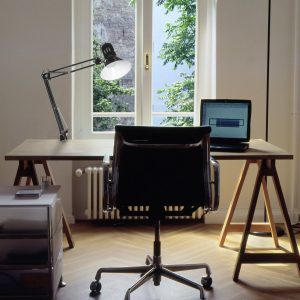 ---
Offering the user a selection of seven dimming levels, this is a multifunctional LED desk lamp for specialists as well as everyday users.
You can easily dim the light in order to find your preferred settings whether you need illumination for precision tooling, reading or relaxation.
There is a simple touch tricky panel to help you adjust the illumination as required. The smart lamp also comes with a memory function so that you do not have to repeat the setup every time you switch on the lamp.
The lamp also boasts a flexible lamp head which can be rotated through 270 degrees of arc without changing the direction of the base.
The lighting element is made from an LED array that has been advance to eliminate all flickering and ghosting. To make it even easier for you to adjust the angle and focus of the yield, the lamp's base is fitted with a n inbuilt stabilizer so you can adjust the lamp using a single hard.
2.Limelights LD1002-PNK Organizer Desk Lamp
---
---
The Limelights LD1002 is a stylish gooseneck desk lamp that comes with a fun organizer which includes a plastic head, an iPad stand that can be used for holding books, and 8 compartments to keep your office essentials. This lamp also comes with a flexible gooseneck that enables users to point the light to where it is needed. As you would expect, its on/off flip switch is located at the base of the lamp for easy functionality.
3.Newhouse Lighting Energy LED Desk Lamp
---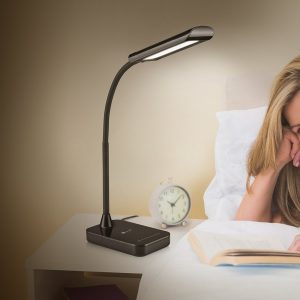 ---
If you are looking for installing the best desk lamp for your office, this device should be suitable for your own office. There are some interesting features that you should enjoy from this desk lamp. This lamp has energy saving LED bulbs that can provide efficient natural light for all customers. You will be able to enjoy stress free productivity when you use this desk lamp. You can replace your regular desk lamps with this high quality lamp.
It has stylish look that can be very interesting for most users. Its LED has about 35,000 hour run time that can provide warm and also soft brightness. You can feel comfortable when reading or writing under this desk lamp. It is protected by its 1 year warranty from any manufacturer defects. You will be able to enjoy your time when you use this desk lamp in your own office.
4.Newhouse Lighting 3W Energy-Efficient LED Clamp Lamp Light, Black
---
---
During the testing process, this lamp impressed us straight away with the warm glow if its illumination and a number of features which made it possible to customize the light to suit different requirements.
Its sleek, ultra modern and customizable design was a big plus especially for use on a desk where space is at a premium.
The gooseneck of the lamp stem proved very moveable and the user can adjust both height and angle of illumination with almost effortless convenience.
It is also fitted with a versatile clamp which made it possible for us to mount it on a variety of places from bed frames to nightstands, desks, racks and even shelves.
The LED lamp offers 300 lumens of glowing illumination and is available in three different colors to suit the needs of different users.
The LED array module is made from the latest machinery and will provide well over 30,000 hours of yield; enough for a lifetime guarantee of functional value.
5.MarsLG Anti-Glare Desk Lamp
---
---
The MarsLG desk lamp is an anti-glare, LED, 5 Watt desk piece that aims at providing a natural lighting that is flicker-free for optimum enjoyment, efficiency and comfort. Designed with an easy to use on and off switch this lamp can be adjusted and positioned according to the user's requirements.
Perfect for office spaces, bedrooms, and study rooms as well as for reading areas of any kind, this anti-glare lighting device provides a warm color temperature of 5,500K in almost any type of environment. More at https://www.brandreviewly.com/top-best-desk-lamp-for-office/.
6.Trond Halo Dimmable LED Desk Lamp
---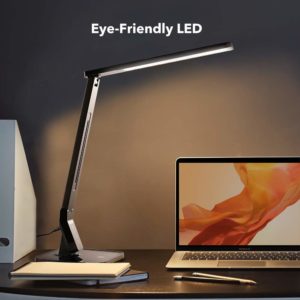 ---
It is another good reading lamp that you can install in your home. You can place this desk lamp on your office easily. There are some interesting features that you should find from this desk lamp. This office lamp is very well-known for its eye protective function. This technology can ensure your eye health when you use this desk lamp. It has the latest surface lighting source that can create anti-glare light without flicker.
It is very comfortable for you to use this desk lamp everyday. It is easy for you to adjust the overall position of this desk lamp. You can also manage the overall brightness level from this desk lamp, so you can feel comfortable when using this desk lamp. You can place this lamp on top of your office desk easily without any issues. This device is very well-known for its gooseneck design that can improve the look of this desk lamp.
Can you offer ideas about the overall lighting design for a home office space?
When layering lighting, the fixtures and light sources should not be a distraction. I like to have one fixture, like a pendant, make a strong visual statement, and then the rest of the lighting—whether recessed or accent lighting—work around the perimeter of the room to highlight features and objects.
At the end of the day, the most important thing is the quality of light and how it renders color. Light sources should be of similar color temperature for balance. If you're using incandescent and halogen sources, be sure your LED lamping is at a warm Kelvin temperature similar to incandescent (2700k-3500k). Investing in a dimming system is energy efficient and allows you to easily control the levels of light. More at https://www.brandreviewly.com/best-desk-lamps/.